How to Lower Your Car Repair Costs
Written by Beatriz Berbet
3 min read • Published July 14, 22
With all the tips in this blog article, you can save money by having a plan for car repair. If your car suddenly breaks down or needs to be serviced, don't miss out on these tips because they'll help you keep your vehicle on the road.
How Much Does a Car Repair Cost?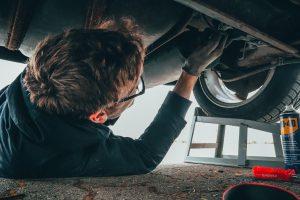 If you're like most drivers, you probably cringe when you think about car repairs. But don't worry. There are ways to keep your repairs affordable. In this blog post, we'll outline tips on lowering your car repair costs.
When it comes to car repairs, there are a few things you can do to save money:
1. Get a maintenance plan. Many car companies offer maintenance plans that include regular checkups and repairs. It can help you avoid costly repairs down the road.
2. Ask for quotes before repairing. Before making any significant car repairs, ask for quotes from different mechanics. It will help you get an idea of the repair cost.
3. Compare prices before making a purchase. When shopping for car parts or repairs, compare prices to see if you can find savings. Sometimes dealers offer discounts for coming in during certain times of the month or buying a certain amount of products from their store.
4. Shop online for car parts and repairs. There are plenty of reputable online retailers that sell affordable car parts and repairs. You can also find deals on these items by using coupon codes
How to Lower Your Car Repair Costs
Like most drivers, your car is your primary means of transportation. That means that it's also likely your most considerable expense regarding repairs. Here are a few tips on how to reduce the cost of car repairs:
1. Know what your car is worth. If you can, try to do a written estimate of the value of your vehicle and have that information available in case you need to negotiate a repair price.
2. Use online resources. There are many online resources available that can help you save money on car repairs. For example, Consumer Reports has a database of recommended auto mechanics in each state, and Allstate has a tool that helps you find the best prices for car insurance quotes in your area.
3. Ask around. If you don't know who to ask for advice on car repairs, try contacting your friends or family members who own cars, or check out online forums where people discuss repair costs and tips.
4. Inspect the repair before. Before any major repair is done on your car, scrutinize it to see if any cheaper alternatives are available. This way, you won't have to pay more than necessary for a
Alternatives to the Repair Process
One way to save on car repairs is to find alternatives to the traditional car repair process. Here are five tips for doing just that:
1. Get a repair estimate in advance. It will help you plan and know what needs to be done, which will help keep costs down.
2. Use online resources. Many helpful online resources can give you an idea of what needs to be repaired and what options are available.
3. Repair your car yourself if possible. If you're comfortable with mechanics, repairing your car yourself may be cheaper than having it fixed by a mechanic.
4. Ask around for tips. If you know someone who has successfully saved money on car repairs, ask them for advice. They may be able to share some valuable information with you.
5. Avoid overspending on car repairs. It's easy to get caught up in the excitement of buying a new car or fixing something that doesn't need to be fixed immediately – both of which can lead to expensive car repair bills down the road.
Read full Bio
Beatriz Berbet
Marketing & Social Media Intern
As a Marketing and Social Media intern, Beatriz takes care of social networks and is responsible for making people know more about Savings.Club on the internet. When she's not working or at university, you'll find her with a book and a glass of wine.