Affordable Car Finance Deals With Savings Club's 2.9% EAPR

Written by Ashton Dobbins
4 min read • Published May 2, 23
With a maximum EAPR of just 2.9%, Savings Club is revolutionizing the car financing industry by offering exceptional rates and making your dream car more accessible than ever. So buckle up, and let's dive into what makes Savings Club an unbeatable choice for Texans looking to finance their next vehicle! With patience and proper planning, it's easy to benefit from this amazing affordable car finance deal.
Savings Club: A New Way to Pay
Savings Club is an innovative and secure alternative to traditional savings clubs. With a focus on affordable car finance deals, Savings Club mitigates the risks often associated with traditional savings clubs by offering administrative support, optional credit checks, and legally binding terms each member agrees to before joining. This ensures a safe and efficient process tailored to meet each client's unique needs.
Each club collects payments into a shared account. Members take turns using the funds to purchase their car. The order of this process is determined by member club standing — something called a savings score.
So, by combining the best aspects of traditional savings clubs with modern financial tools and services, Savings Club has created an unbeatable offering for those seeking personalized car financing plans in Texas. If you have a cell phone, stable Wi-Fi and a payment method, you could also save thousands on car financing.
EAPR: Knowing What's What
Now, EAPR, or Equivalent Annual Percentage Rate, is a vital financial concept that provides Savings Club account holders with a more accurate reflection of the membership cost. The EAPR considers Savings Clubs administration fees — since that's the only membership cost. By focusing on these charges, the EAPR offers borrowers a better understanding of the true cost of borrowing in Savings Club.
EAPR is just another way to compare our prices to competitors. This helps you make a more informed decision when comparing different car loans. The bottom line is that Savings Clubs rates are much more affordable. Avoiding standard APR prices and loan practices makes saving thousands with our financing plans easy.
An Affordable Car Finance Deal You Can't Miss
One of the most attractive features of Savings Club is its impressive maximum EAPR of just 2.9%. This rate is substantially lower than the average car loan APR, typically between 3.5% and 10%. Lowering rates and approval requirements allows us to even the playing field.
Here at Savings Club, we believe that everyone deserves access to transportation. Taking on a loan can be a dead-end for many people. So, just how much can you save? Let's examine the potential savings using some easy-to-follow examples.
Savings Club vs. The Other Guys
Let's say you're financing a car priced at $25,000 with a repayment period of 60 months (5 years). Let's compare the costs of a traditional car loan with a 6% APR to Savings Club's maximum EAPR of 2.9%.
First, with a traditional car loan at 6% APR, your monthly payment would be approximately $483, and you would pay a total of $3999 in interest over the 60-month term.
Now, let's consider the same loan with Savings Club's maximum APR of 2.9%. Your monthly payment would be approximately $448, and you would pay $1886 in interest over the 60-month term.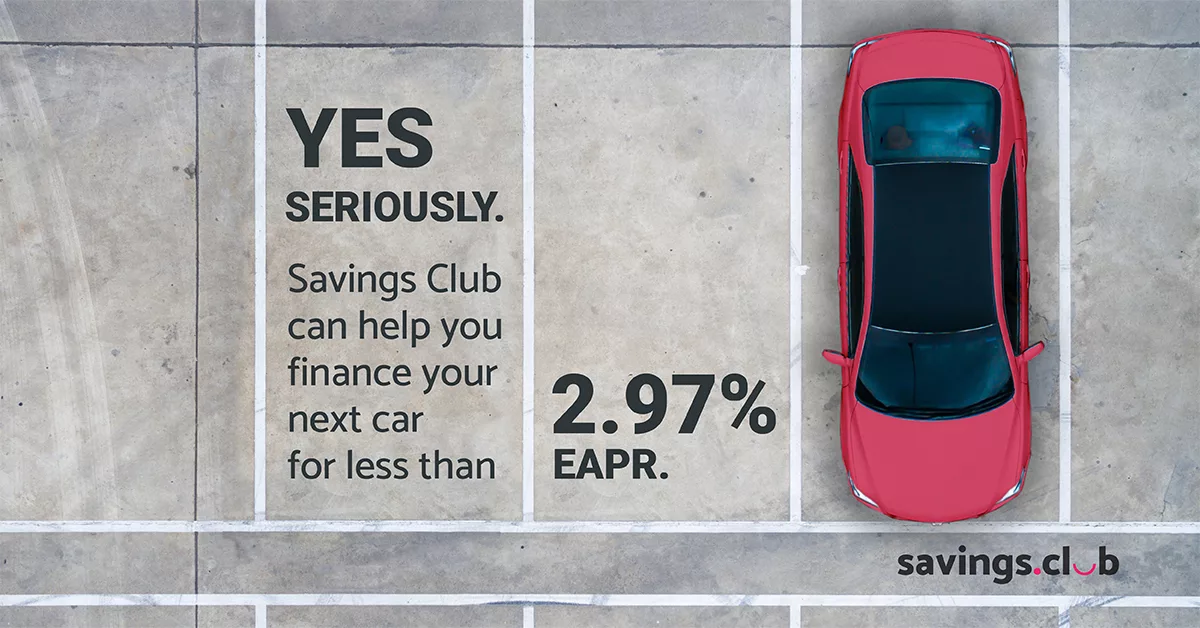 Real Numbers, Real Savings
By choosing Savings Club's affordable car finance deal, you save about $35 per month, which equates to a total savings of $2,113 in interest payments over a 5-year loan term. That's a significant amount of money you can put toward other financial goals, like paying off debt, saving for a vacation, or investing for your future.
An Affordable Car Finance Deal With Unrivaled Benefits
The incredible 2.9% maximum EAPR is just one of Savings Club's many benefits. On top of club merchandise and ongoing promotions, Texans can also enjoy the following advantages when choosing Savings Club for their car financing needs:
Personalized Financing Plans: Savings Club understands that every client is unique and caters to individual needs by offering tailored car finance deals. This personalized approach ensures you receive the best financing terms based on your financial situation and credit history. Start by picking a term and deciding on monthly costs. Now, you're ready to start saving!
Optional Credit Checks: If you have a strong credit score, Savings Club offers optional credit checks that can help you secure even better financing rates. If you have a less-than-perfect credit history, Savings Club will work with you to find a suitable financing plan without relying solely on your credit score.
Firm Contracts: With Savings Club, all financing agreements are secured by legally binding contracts. This added layer of protection ensures that both lender and borrower are protected throughout the financing process. At Savings Club, everyone wins.
Real Support: Savings Club's seasoned customer success professionals are always available to provide expert guidance and advice. Their exceptional customer service ensures you feel supported and informed throughout your car financing journey. Ask questions, inquire about your account and more by contacting our people.
The Future of Affordable Car Finance Deals
It's easy to see that Savings Club is redefining the landscape of car financing in Texas by offering personalized car financing plans with unbeatable rates. We might have just offered you the year's most affordable car finance deal. With a safer and more efficient alternative to traditional savings clubs, we make car ownership more accessible and affordable for Texans.
Don't miss out on this opportunity to secure the best possible car finance deal for your needs. Choose Savings Club and join the growing number of Texans driving away with their dream cars at incredible rates. Visit the Savings Club website today to learn more and start your journey toward a brighter financial future with an affordable car finance deal.
Ashton Dobbins
Copywriting
As savings.club's copywriter, Ash takes on various B2B and B2C communication tasks. He went to school for illustration at SCAD. There, he developed a passion for writing and effective storytelling. Ash is fond of journalism and reporting on the facts. He's interested in new and groundbreaking ideas, especially ones that challenge the norm. Ash still loves to create art outside of work. His cartoons and writing have even been featured in The New Yorker!